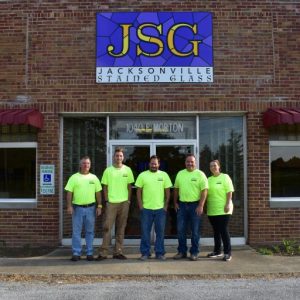 Welcome to Jacksonville Stained Glass!  We specialize in the restoration and creation of church stained glass windows. Our focus is to provide our customers excellence through education and conservation.  Please take a few moments to look over our restoration projects on the Stained Glass Restoration Page.
We are proud members of the Stained Glass Association of America.  The SGAA continues to educate and guide it's members through the complicated world of stained glass restoration.  We adhere and abide by their published "Standards and Guidelines for the Preservation of Stained and Leaded Glass Windows".  Owner Ron Weaver currently sits on the Executive Board of the SGAA.  For more information about this fine organization go to http://www.stainedglass.org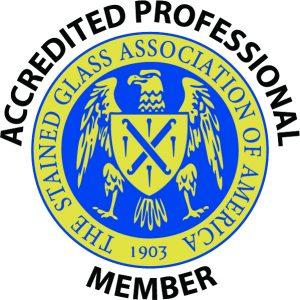 Jacksonville Stained Glass owner Bill Preston is certified by the EPA to safely handle and renovate lead based paint.  Preston also holds OSHA cards for construction and scaffolding and is our competent person at your facility to keep safety our foremost concern.